HOme Inspection
Gallery
The images below are some examples of the common issues with homes we will help you identify as part of your bonafide home inspection.
Chimney Flue
Before starting your first fire of the year, have your chimney and flue checked and cleaned by a qualified Chimney Sweep. Besides possible creosote buildup, varmits may have found a home.
Recessed Lighting
Recessed lighting is very popular. But, I often find conventional light bulbs installed instead of the recommended spotlights. Where a spotlight will direct heat downward, a conventional bulb will radiant heat in all directions. This super heats the housing creating a potential fire hazard if the fixture is not rated for insulation contact.
Panel Boxes
Yikes!! How often do you look behind the cover plate of a breaker panel, never? Your inspector will always do so if its safe. Some surprises we find are wasps, ants, mice, roaches, and even scorpions. Here we have Dirt Daubers who have made themselves at home. Hire an electrician to clean this up and evaluate damage.
Lead Based Paint
Lead based paint was banned in 1978 but can still be found in older homes. Lead poisoning is a serious health hazard for adults and especially for small children and pregnant women. If you suspect it's in your home, have some samples tested. For more information, go to The National Lead Information Center website.
Installations
Buyer beware!! There are three ways to do something. 1. The right way. 2. The wrong way. 3. "Uncle Cletus Way", which is the quickest and easiest way. If you're house shopping and see a Cletus installation like the one in this picture, you can bet there are others in the house. Hire a Bonafide home inspector to find them.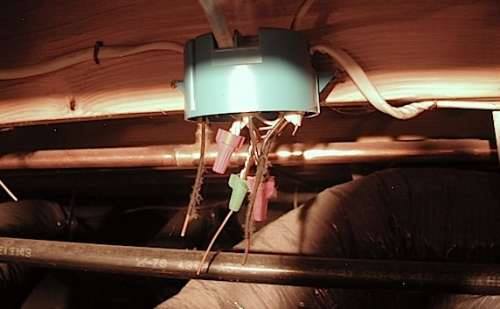 Electrical Junctions
One of the most common issues found in an inspection are exposed electrical junctions and terminations, especially in attics and crawlspaces. All should be enclosed in approved junction boxes. The picture shows open wiring in a crawlspace. This one is of particular interest as live wires are contacting and energizing a copper water pipe. Can you say SAFETY HAZARD?
Dead Bolt
This is a double cylinder dead bolt (keyed inside and outside) on an exterior or egress door. Picture a situation where your home is on fire and you can't find the key to unlock the door. SAFETY HAZARD !! Please correct if this applies to your home.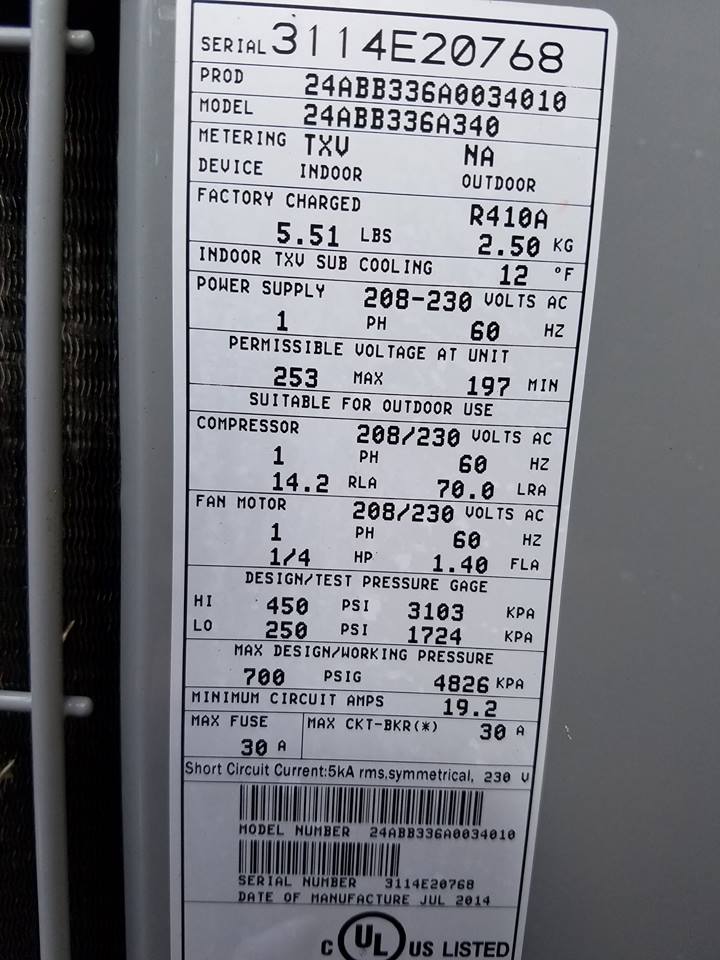 Circuit Breakers
Has your home had 2 or more exterior AC condenser/compressor units? If so, there is a good chance your circuit breaker may be too large. Older units sometimes required 60+ amp breakers. Newer and more energy-efficient units may only require 25 - 30 amp breakers. Near the bottom of this picture, the data plate displays "max fuse/ckt brk 30 amp". Check the data plate mounted on the side of your outside unit and compare it with the size breaker installed in your main breaker panel. If your breaker is oversized, you need to consult with an electrician because you have a potential SAFETY HAZARD.
Brick Siding
Look your brick siding over and you may find small cracks. Brick and mortar cracking is typical over time due to mortar shrinkage, slight settling, and thermal expansion/contraction. Fill these cracks with a flexible sealant to inhibit moisture and insect intrusion. A hard sealant may very well cause more cracking.
Automatic Garage Door Openers
A serious overlook in home maintenance is often the automatic garage door opener. Over 30,000 injuries a year are attributed to garage doors. A child can easily be trapped under a closing door with tragic consequences. Check your photo-electric eyes to make sure they operate and are within 6" of the floor. Also, place a roll of paper towels under the door to see if it reverses as it makes contact. Don't ignore deficiencies, have them fixed.
Black Soot
Black soot visible on top of your water heater? You've got a problem. A backdraft problem. Backdrafting is the flow of flue gases or exhaust in the wrong direction. Backdrafting can result in the release of invisible and odorless toxic byproducts of combustion into the living space. Excessive exposure can have serious health consequences, even death. Shut it down immediately and have it evaluated by a licensed plumber or HVAC technican.
But it works like it is.
No, a water heater does not have to go in the livable space of a home. It can go in the attic, crawlspace, or even outside, but they are not designed to be on their side. Not installing vertically may void the manufacturer's warranty, may damage components, or may cause substandard operation. Water heaters should be installed preferably by a qualified plumber, not your Uncle Cletus.
Entering the crawlspace of a home "is like a box of chocolates. You never know what you're gonna get." When your inspector finds a problem in a crawlspace, he will investigate and try to understand whats causing the problem. BUT, if the problem is moving, it "Exit, stage left !!"
Water Heater
"Holy TNT Batman!!" This home owner was upset because his water heater was leaking water in the closet. His solution was to use a bolt to plug up the Temperature Relief Valve. Can you say "Time Bomb"? Its well documented that water heaters can and do explode with enough force to level a house. This water heater is "locked and loaded".
Altered Trusses
Pre-fabricated roof trusses are designed to carry a certain load. Any altering will compromise their strength. Here we have two trusses that have been cut in order to make room for the furnace. Always have a qualified contractor or engineer approve such modifications.
Open Wiring
Very often we find open wiring connections which are safety hazards. All connections should be enclosed in approved enclosure boxes.
Panel Boxes
Yikes!! How often do you look behind the cover plate of a breaker panel, never? Your inspector will always do so if its safe. Some surprises we find are wasps, ants, mice, roaches, and even scorpions. Here we have Dirt Daubers who have made themselves at home. Hire an electrician to clean this up and evaluate damage.
Asbestos
Here we have damaged bathroom flooring that needs replacing. Problem is that considering the age of the house and the black & white tiles, it is very likely to be asbestos flooring. While asbestos is not considered a safety threat when intact, removing or repairing is a job for an asbestos specialist. Suggested reference: www.asbestos.com/abatement-guide/
Foundation
Over years its typical and acceptable for a foundation to have some settling. Make sure you monitor and repair with an appropriate sealant to prevent moisture and insect intrusions.
Floor Joist
I'm always amazed that some homeowners will spend thousands of dollars on a cosmetic makeover of a house but ignore serious structural issues. Here we have a main floor joist almost rotted completely in two. The sloping floors inside the house were a clue to a problem.
Dryer Lint
"Houston, we have a problem." The dryer exhaust was vented directly into the crawlspace. The result was an accumulation of dryer lint. Dryer lint is very flammable and what we have here is a bonfire waiting to happen.
Chimney Cap
There are two types of concrete chimney caps, the ones that are cracked and the ones that are going to crack. Be sure to inspect your annually and repair as needed.